Dear Parents and Guardians,
We know more than ever, especially in today's new world, the enormous responsibility it is to care for your child.
We recently wrapped up a successful 12-week summer camp program and will continue to use the same strategies and procedures for our Remote Learning Camp. Krazy Kids Remote Learning Camp will begin Monday, August 31st.
We will continue to strictly follow all state mandated child care guidelines set by the Centers for Disease Control (CDC).
Out of an abundance of caution, Krazy Kids has implemented our own facility-wide action plan to address evolving circumstances involving the spread of the coronavirus (COVID-19), this includes they way campers are dropped-off, picked-up and the layout of our indoor and outside facility. We have added more outdoor games and obstacles and will continue to use our outdoor play area.
The Krazy Kids Remote Learning Experience:
While your children are here for Remote Camp we will guide them through their individualized remote learning in a safe, child care environment.
Our staff is a combination of educators and college students with a focus on early childhood education; along with previous Krazy Kids Summer Camp experienced staff.
We are here to assist through the remote learning process.
Our camp will be designed with remote learning in mind, but campers will benefit from a day camp experience and take part in friend bonding, arts and crafts, playground time, indoor inflatables and ropes course fun.
We are not a replacement to your child's teacher, but we hope to offer your child an environment they can continue their daily remote learning.
We will offer structured activities to include; STEM, arts & crafts, and other projects that can be worked on individually and within a small group setting.
We believe this action plan aligns with our commitment to ensure the health and safety of our staff, children and their families while making this program a fun and entertaining camp for all the campers.
Preventative Actions
Our facility has been closed to the general public since March 16 and only open to our Summer Campers.
We have chosen to continue to keep Krazy Kids closed to the general public Monday – Friday through Remote Camp Hours.
Our facility continues to be cleaned and sanitized and we will continue to do so during the course of the day on an hourly basis especially in high touch places such as doorknobs, tables, faucets, and children's toys frequently used throughout the day.
We will keep our slides and other play structures open and will continue to clean them multiple times throughout the day as campers use them and prior to a new group of campers entering the play area. We will rotate our designated play areas throughout the day with only one group of campers using that area at a time. Each area will be cleaned and sanitized before a new group enters that play area.
Hand washing instructions are posted in all bathrooms. Children will wash their hands immediately upon arrival, before eating snacks, before leaving for the day and after sneezing or coughing in them. Children who have sensory challenges with hand washing will have modified hand washing routines which are individualized to them. If you have concerns about specific products used for hand washing, please let the camp director know.
Children's learning areas will be supplied with hand sanitizer. In addition, their tables and learning materials will be wiped down before and after each day with antibacterial cleaner. If your child has an allergy or sensitivity to antibacterial gel or cleaning products, please let us know.
Community spaces throughout the building will be cleaned and wiped down after each use. We will also offer individual wrapped utensils. We follow strict cleaning and disinfectant guidelines in our kitchen.
If you have any questions or concerns; please don't hesitate to reach out to our director. Upon registration of your child, you receive a link with necessary documents that must be filled out prior to your child attending, including a list of what your child should bring each day.
You will be contacted by Krazy Kids to review your registration and to review placement of your child or children into our Remote Learning Camp. It is very important you make contact with Krazy Kids before your child arrives for their first day to ensure proper paperwork is completed and there is a mutual understanding of your child's schedule and remote learning needs.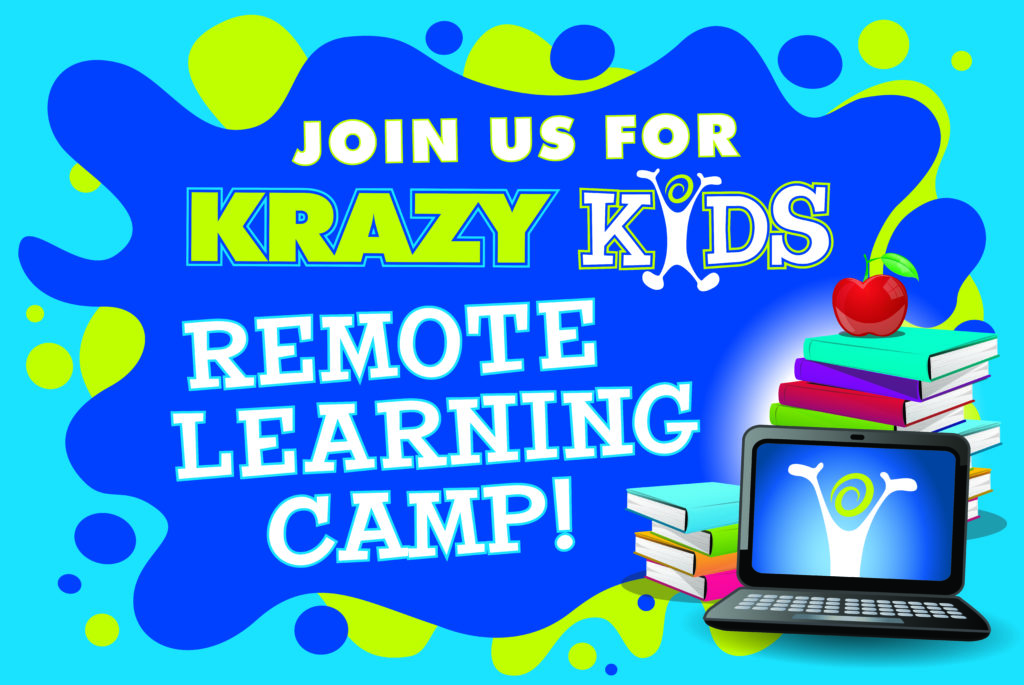 REMOTE LEARNING CAMP DETAILS
*Limited Spots Available*
Camp Hours:
8:00am-5:30pm
Remote Camp Rates:
5 days = $175
3 days = $130 
2 days = $100
Early Care:
7:30am-7:55am
Early Care
Rates:
5 days = $25
3 days = $15
2 days = $10
After School Program:
Transportation is available from Pembroke Hill School to Krazy Kids.

After School Program Rates:
5 days = $75 
3 days = $55
2 days = $40